Carli Suspension 3.0" Jeep JK Pathfinder System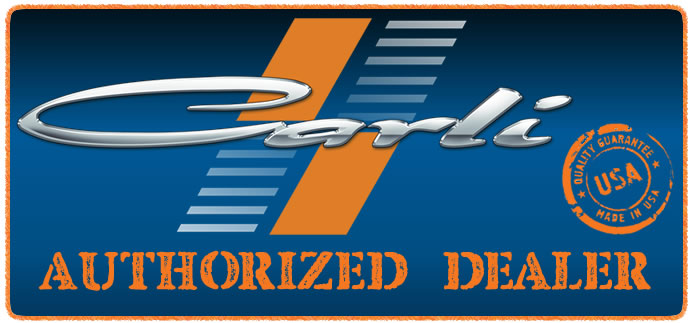 The Pathfinder is the Backcountry on steroids, take the description for the Backcountry and throw an exponent on it. This system is our Jack-of-all-trades system from which every JKU owner would benefit. The Pathfinder handles like it's on rails completely removing body-roll from the equation.
This system can best be described as reactive; you'll feel the trail but the jeep will feel as though it's 2-steps ahead of you. The faster you go, the better it will feel. Low speed crawling is as good as the Commuter and Backcountry and fast-paced trails are handled with ease all paired with unrivaled on-road manners. The on-road ride will be a hair firmer than the Backcountry or Commuter as a byproduct of the control prioritized when engineering this system.
This system boasts Carli specific, blueprinted, King 2.5" shocks on all four corners. In an effort to provide customers with the best product, we designed a custom piston to determine proper base flow rates to ensure the shock works well in the JKU platform; we then tuned the shocks around the custom pistons based on the only thing that matters to us, seat-of-the-pants feel. We round off ALL our King shocks with shafts machined and polished from a solid piece of 17-4 Stainless. Unlike King's standard shafts, there is no coating to wear off, weather is far less likely to hurt them and if there is a small chip, you can round the edges with emery cloth to ensure the seal housing isn't damaged as they're not brittle like the stock, hardened shafts. The shocks are finished with King oil good to -55* F. Note that all King shocks are built with a plated steel body. If subjected to inclement weather for extended periods, we recommend wrapping your shocks in 3M to provide a moisture barrier that's replaceable.
The front linear rate Carli springs will lift your Jeep JKU 3.0" while the rear is lifted 2.5" utilizing progressive coil springs.
When lifting the front end of a straight axle vehicle, the front axle is pulled off-center unless the proper linkages are addressed. This system includes an Adjustable Track Bar that's designed to extend – we provide this measurement – to correct the driver's side axle shift. Included in the system, we provide extended sway bar end links with spherical bearings to accommodate the extended travel and maintain the factory Rubicon Sway Bar Disconnect. The last piece of the puzzle; extended stainless brake lines ensure the bottom of the new travel stroke can be reached without ancillary component stress. A short billet bump riser is included to match the front shock travel.
To match the front and provide a bit of rake, the rear is lifted 2.5" with a multi-rate coil spring ensuring a supple ride and reasonable carry capacity. The rear geometry being similar to the front, everything is included to support flawless operation of all components. A rear Track Bar Riser and adjustable track bar correct the axle position and minimize yaw (side to side movement of the body as the axle travels), Extended Sway Bar Links are included to accommodate the extended travel stroke as are Stainless Brake Lines and Brake Line Routing Bracket guiding the longer brake lines clear of all moving components. Fabricated rear bump risers.
Application:
2007-2018 Jeep Wrangler JKU 4 door 4x4
An Exhaust drop or Y-Pipe is required with this system to avoid driveshaft/exhaust contact!
Includes:
CS-JK25LRC-F-07 3.0" Lift - Linear Rate Coils
CS-JK25MRC-R-07 2.5" Lift - Multi Rate Coils
CS-JKU-PF25SPKG-25-07 Carli Pathfinder Shock Package - King 2.5" Remote Reservoir
CS-JATB-07-F Front Adjustable Track Bar
CS-JATB-07-R Rear Adjustable Track Bar
CS-JATB-07-R-RISER Rear Adjustable Track Bar Riser
CS-JEL-07-F Front Sway Bar End Links
CS-JEL-07-R Rear Sway Bar End Links
CS-JBBLKIT-07 Extended Brake Lines, Gudes and E-Brake Drop
CS-JBSF-07-TALL Front Bump Riser, Tall
CS-JBSR-07 Rear Bump Riser
An Exhaust drop or Y-Pipe is required with this system to avoid driveshaft/exhaust contact!